Recipe for our Ricotta Pancakes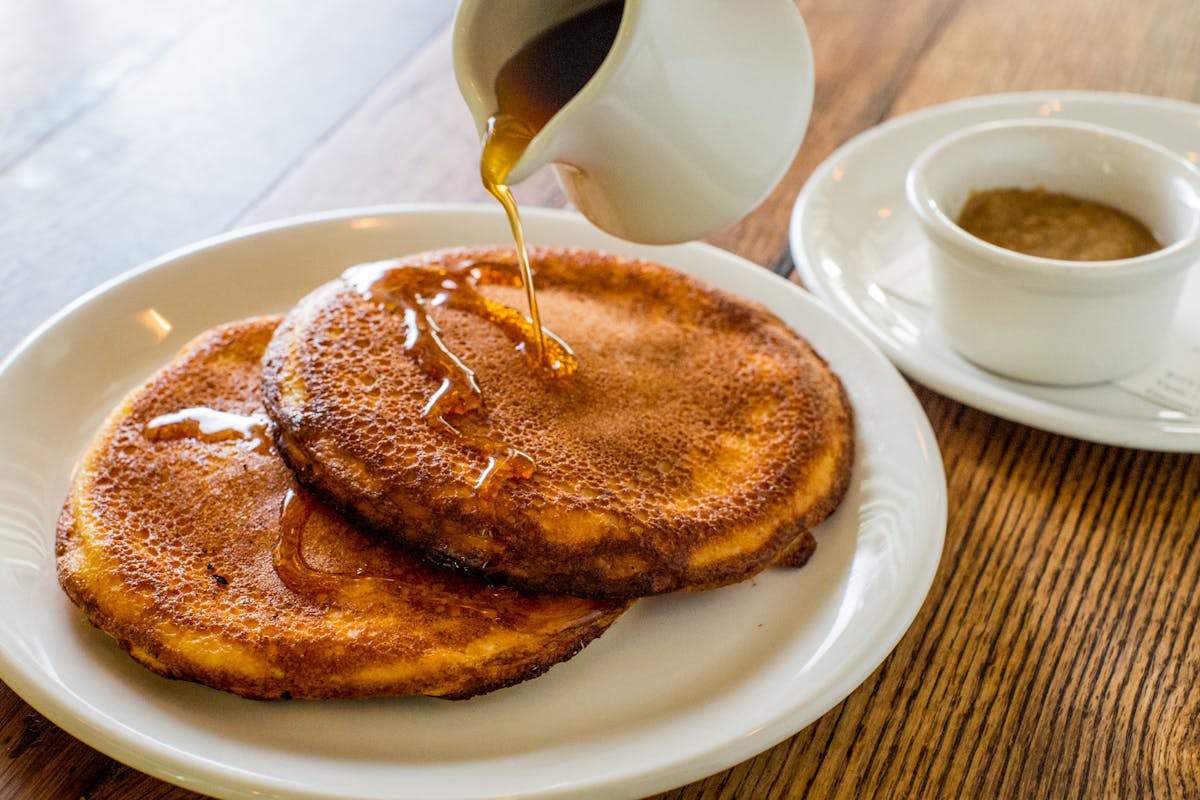 Our Ricotta Pancakes have been a staple on our Breakfast and Brunch menus since we opened our doors in 2009. Light and fluffy and full of fresh ricotta cheese, we serve them alongside maple syrup and seasonal jam in our restaurant (and at our sister spot Maialino Mare in Washington, D.C.). If you make them at home, be sure to share your photos with us @maialino_nyc!
Dry Ingredients:
1.5 cups flour
5 tablespoons sugar
1 teaspoon salt
3 tablespoons baking powder
1 teaspoon baking soda
Wet Ingredients:
6 eggs
3 cups buttermilk
6 tablespoons butter, melted
3.5 cups ricotta, drained
Zest of 3 large lemons
Whisk together dry ingredients. Separately, whisk together wet ingredients. Slowly fold the dry mix into the wet, being careful not to overwork the batter. Use a 6 oz. ladle to portion, cook in a non-stick pan** over medium heat with clarified butter or olive oil. Cook for 5-6 minutes* on the first side, or until golden brown. Carefully flip and cook for 2-3 minutes on the second side.
* Our pancakes are pretty thick, which we think is nice to show off the texture of the ricotta. For this reason, the cooking time seems long for a pancake.
** We use individually sized pans (6" or 7" pan) so that the batter has borders to keep the height of the pancake. If you don't have 4-6 small pans at home, you can use a griddle and decrease the cook time. It's quite a scene on our hot line during brunch service - a sea of nonstick pans across the flat tops.
And, here are just a few of the nice things guests and journalists have said about our pancakes...
"Many menus brag that their pancakes contain ricotta; few get results at quite the level of those at Maialino, Danny Meyer's Roman restaurant in the Gramercy Park Hotel, which is — at this point — something of a forgotten gem. The pancakes, which come two to an order, are satisfyingly big, thick, and perfectly round, tantalizingly crisp-edged and custardy, yet not — somehow — overly heavy, with so much flavor from the fresh sheep's-milk cheese (which comes from DiPalo's) that the seasonal fruit (jam in winter) and maple syrup are almost unnecessary." - Hannah Goldfield in Grub Street's The Absolute Best Pancakes in New York.
"5-star review is required for their excellent Lemon Ricotta pancakes as one of my favorite guilty pleasure brunch meals in the city." - Andrew M, Yelp
"THEN ordered ricotta pancakes for dessert. That's right, I had dessert for breakfast. Law breaker. I was only going to have "one bite." We ate the whole thing and didn't even feel bad! They were so amazing!! It's like fireworks and unicorns with each bite!!!" - Whitney, TripAdvisor